Both the

PolyPlaSteel

 and the
Khaya ZIMBI
 methods are offered to Builders and Construction Companies to use under certain
*Terms and Conditions
.
For the Architects, Builders, and their Clients that prefer using conventional building methods, we can't fault you, as it is called "conventional" due to the fact that it has been tried and tested over many years.
But for those who want to convert to exciting, new and modern building methodologies, we think that we can help!
---
TRAINING
To become involved is very simple. Just attend one of our

FREE

training sessions:
NEXT TRAINING SESSION: To be announced soon
This Registration Form can still be completed. We will then inform you via email when and where the next training session will be.
---
IMAGES of LAST TRAINING SESSION
held on 26 August 2020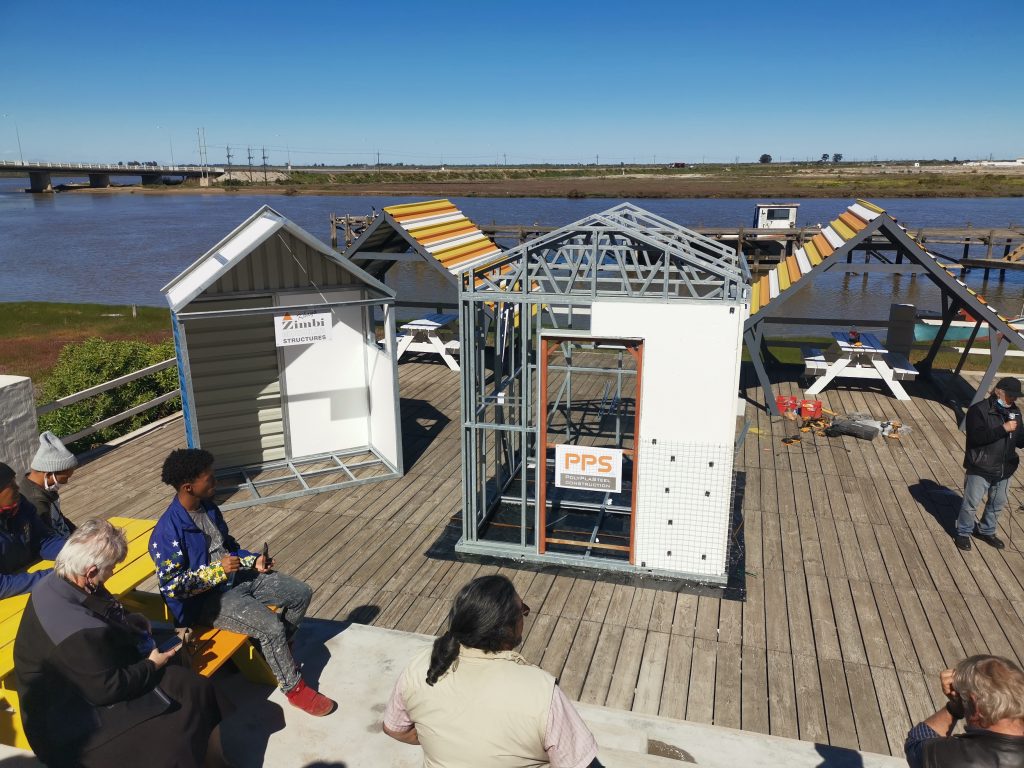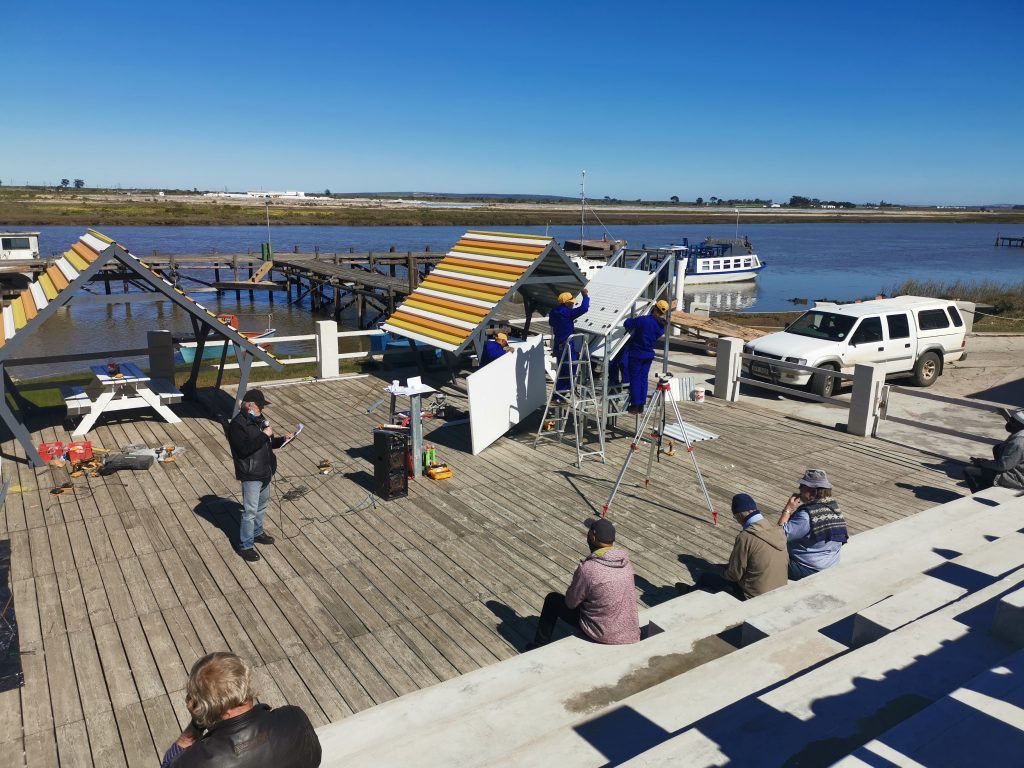 ---
USER CERTIFICATE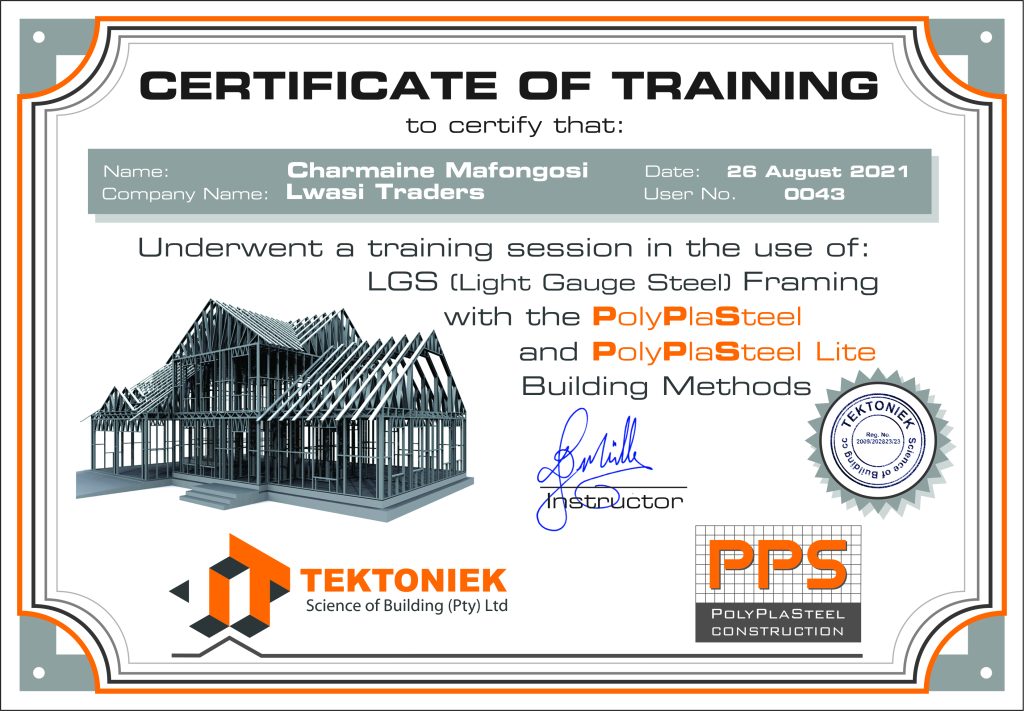 ---
General Notes:
Training Sessions will start at 9:30 AM and will end at 3:00 PM (5.5 hours)
Q & A will be attended to any time during the Session
All refreshments are for the pockets of attendees
All Material Sizes and Quantities mentioned in this Training Session must be verified by a Structural Engineer for each individual application.
Due to copyright issues, apart from an attendance certificate, no paperwork will be handed out. It is recommended that attendees bring a notebook and a pen along to make notes and to take as many photographs as possible
TRAINING SESSION VENUE
To be announced
---
*TERMS AND CONDITIONS
By signing a mutual agreement (NCNDA which includes these T's & C's) you have permission to use the LBS and Khaya ZIMBI Methodologies for your own Projects, provided that you agree to the following:
---
LBS
All LGS Frames, Joists, and Trusses must be ordered through us. (Assembly- and  Installation Screws will be included.)

All Polymer Slabs must be ordered through us.

All Polymer Powder must be ordered through us.

 All Polymer Key (Milk) must be ordered through us. 

All Connection Screws must be ordered through us.

All Fibre Glass Mesh must be ordered through us.
---
Khaya ZIMBI
Wall Panels, Ceiling Panels, Lintel Panels, Roof Panels, as well as Trusses, if needed, must be ordered through us. Floor Frames are available but the use thereof is optional.

The Installation of these Panels, Trusses, and

 

Frames 

must be done according to the Assembly Instruction Manual in order to be in accordance with the Methodology of the System.
---
General
Every Builder and Construction Company using our Methodologies must assist us in protecting our Intellectual Property and report the unauthorized use and/or abuse of it.

It will be a requirement for new users of our Methodologies to report back to us with photographs of their progress to ensure quality control. Site inspections by us must be allowed at any given time and will only take place if necessary.

Builders and Construction Companies that successfully use our methodologies in the future will be branded; "Accredited Contractors" and their names and contact details will appear on this Website as well as on our Facebook Page.